Abraham Lincoln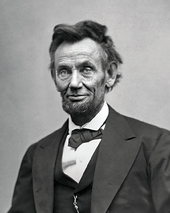 The 16th President of the United States

February 12, 1809 - April 15, 1865
Throughout his presidency Lincoln was known for being honest and a valiant leader.
Not only was he a strong supporter of the thirtheenth ammendment but he also was president during a long portion of the civil war.
There were many pressures lying on the back of Lincoln, however this did not let his true ideals fall to the threats of assassination, and bickering among his cabinet, and other political figures.
Click here to go to Theodore Roosevelt
Click here to get to presidents information